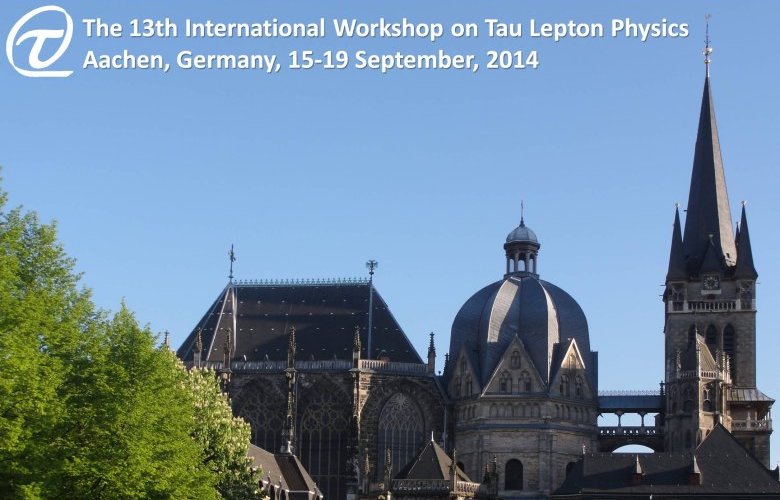 Registration
Registration can be done from the indico page
There are two options for paying the conference fees: Credit Card and Electronic Wire Transfer
Payment by Credit Card
To pay by credit card please use the following link. This option includes an additional fee for processing the credit cards (5%).
Instructions:
Note: For non-German speakers, there is a link for English in the lower right-hand side, denoted by the English flag.

In the Conference Fee selected "Add to Cart". This will bring you to your cart where you can select the number of times you want to pay for the conference fee.
To add the conference dinner, select "continue shopping". Then, when "Conference-Dinner Tau-Workshop 2014" appears at the top, select "add to cart". If you wish to has a companion accompany you to the dinner, increase the Quantity purchased for the dinner.
To finalize the purchase, please ensure the quantities for the conference fee and dinner are correct. Then select "Checkout" followed by "Continue" under "new customer". Fill out the "My Account Information" form and follow the instructions to by credit card.
Payment by Electronic Wire Transfer
To pay by electronic wire transfer, one must use the information provided below and accept all fees for the bank transfer. The conference will not be held responsible the cost resulting from the transfer.
Electronic Wire Transfer details:

| | |
| --- | --- |
| Conference Fee for the Tau-Workshop 2014 | 290EUR |
| Conference-Dinner Tau-Workshop 2014 [per person] | 60EUR |
Memo:
participants name
Tau2014
code: 142671335109001 - Konferenzen
Recipient: RWTH Aachen University
Bank: Sparkasse Aachen
IBAN: DE29390500000000025379
BIC: AACSDE33XXX

If neither of the above two options is acceptable for you, please contact us directly (Email).